Bathroom tiles are made of hard-wearing materials including stone, metal, ceramic, and even glass. They're often utilized to cover floors, walls, roofs, showers, and other items like tabletops.
Wall and floor coverings are often made of tiles. Bathroom tiles come in a wide variety of shapes and sizes, ranging from basic square tiles to sophisticated mosaic tiles. Ceramic is the most common material, which is usually glazed for interior usage and unglazed for roofing. Other materials typically utilized include glass, concrete, cork, and other composite materials, as well as stone.
What is the purpose of bathroom tiles?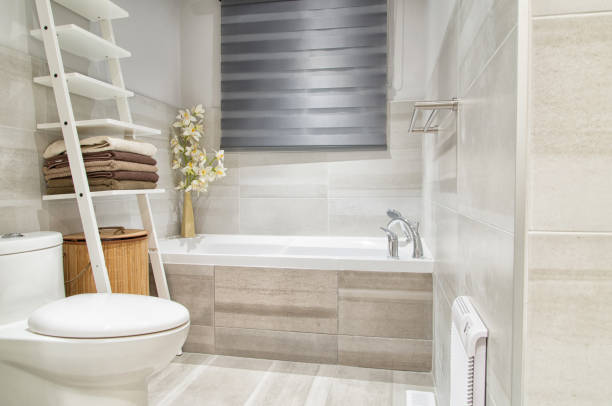 The bathroom serves several purposes in the home. We spend a lot of time in the bathroom, whether it's for a peaceful soak in the tub, a fast rinse in the shower, or a pampering session in front of the mirror. It's also a room where visitors are likely to congregate. It is also critical that the restroom be attractive for everyone's benefit. As a result, it should be appealing as well as tastefully and efficiently created.
The use of tiles in the bathroom has long been popular. It's probably due to the fact that they're simple to clean and maintain, as well as the fact that they're usually waterproof.
Bathroom tiles come in a variety of styles, from traditional to contemporary. Simple to classic, as well as current fashionable design, are all represented. Modern bathroom tiles come in a wide range of styles and colors, allowing you to create a one-of-a-kind, sophisticated aesthetic.
The following are the differences between the bathroom and kitchen tiles: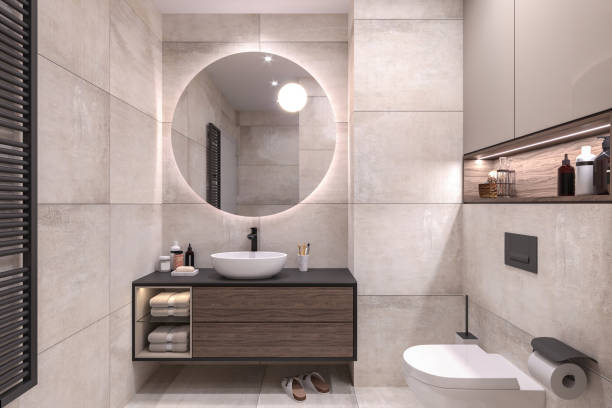 Bathrooms and kitchens are the places in the home where tiles are utilized on the floor and walls the most. Bathroom tiles are a better alternative for floors than other types of flooring such as wood, carpet, and cement, among others. Bathroom tiles are simple to clean, water and slip-resistant, and long-lasting, all of which are essential in locations where there is a lot of water and the risk of spilling and staining is considerable.
People may be tempted to believe that any style of tile may be used in both kitchens and bathrooms, but there is a distinction between the two.
Because the kitchen is frequently the busiest room in the home, you should pick heavy-traffic tile for the flooring. Choose bathroom tiles that are simple to clean and maintain, as well as those that do not stain, for the backsplashes.
Two criteria must be taken into account while tiling the bathroom floor. Bathroom tiles should not be water absorbent and should be slip-resistant. Because the bathroom is a particularly humid and damp region of the home, you should pick bathroom tiles that will avoid any mishaps and safeguard the house's structure. The slide factor isn't as important for walls as it is for floors, but the water-absorbent factor is, so pay close attention to water absorption and porosity.
Bathroom tile types include:
There are many different varieties of bathroom tiles, but not all of them are ideal for use in damp regions. One of the most significant considerations when choosing bathroom tiles is that they should not absorb water and should be slip-resistant. The following is a list of bathroom tile types:
Porcelain Tiles: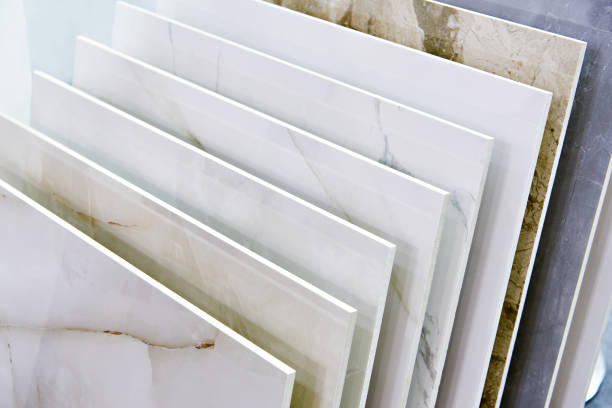 Porcelain tiles are formed of a clay mixture that is pressed into shape and baked at high temperatures in a kiln. These bathroom tiles have a higher density and are less permeable. Liquid resistant, extremely stain resistant, moisture absorbent, robust, fireproof, low maintenance, and simple to repair, these tiles are ideal. They're also available in many colors, textures, forms, patterns, and sizes.
Ceramic Tiles: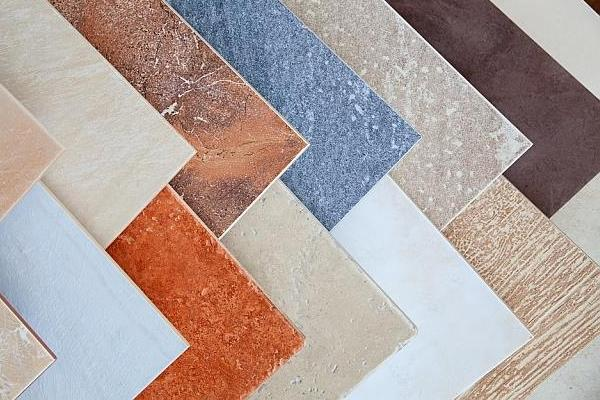 For interior floors and walls, ceramic tiles are highly recommended. These tiles are quite adaptable in nature, and since they are impervious to stains, water, and other elements, they may be utilized in a variety of settings. These bathroom tiles are long-lasting, allergen-resistant, simple to clean, offer limitless pattern choices, and are water-resistant.
Natural Stone Tiles:
Because of their beauty and durability, natural stones have been used for floors and walls for a long time. Whether utilized on the walls or the floor, they offer bathrooms a gorgeous, elegant, and sophisticated appeal. It is not water-resistant, thus a waterproof membrane is required to tolerate moisture in the bathroom. Visit http://liveatallianceblog.com/consider-these-crucial-tips-when-choosing-bathroom-tiles/ to read about Consider these crucial tips when choosing bathroom tiles.
Glass tiles
Glass tiles are one of the most crystalline and attractive tiles available. These tiles improve the bathroom's visual appeal. Glass tile is adaptable, can be readily molded, and adds flair when a finish is applied to it. It comes in a wide variety of hues. These tiles are utilized in bathrooms as mosaics or as accents on the walls. They are stain and moisture-resistant. These tiles are best utilized on walls and in places with less usage.
Marble tiles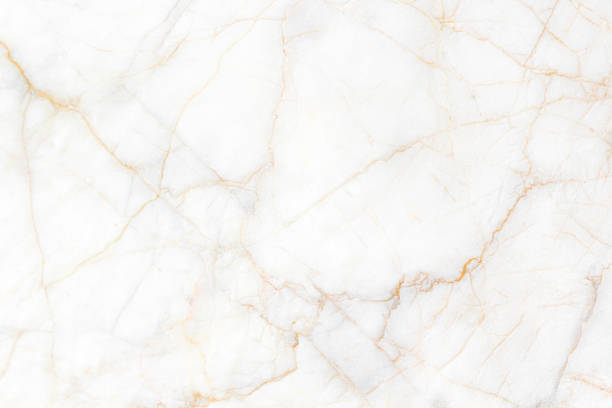 Marble tiles are natural stone that is soft. It is available in a variety of sizes and patterns. It comes in a variety of veining and patterning options and adds a splash of color to the bathroom. It provides the bathroom a trendy, stylish, sophisticated, or historic appearance.
Decorative Tiles:
Decorative tiles are embossed and decorated with a variety of patterns, designs, styles, and images such as stripes, leaves, and birds. They are made of a variety of materials and are embossed and decorated with a variety of patterns, designs, styles, and images such as stripes, leaves, and birds. They're ideal for a landscape, mosaic, border designs, or highlighting a specific area.
Granite Tiles:
Granite is a natural stone that is both sturdy and robust. It comes in a variety of colors and textures. It's simple to keep clean and maintain. It may also be sealed to make it entirely non-porous and stain and scratch-resistant. It's a great tile for bathroom floors as well as walls, bathtub surrounds, worktops, and vanity tops, among other things.
Limestone tiles
Limestone tiles are a lovely natural stone that comes in a range of hues. It's available in a variety of finishes, including honed, polished, and brushed. It is most often seen in neutral hues such as brown, beige, soft whites and creams, and jet black.
Metal Tiles:
Metal bathroom tiles are constructed of solid metal or resin-coated with a metallic finish. These bathroom tiles bring a touch of glitz and glam to any room or space. Bronze, copper, silver, and gold are just a few of the intriguing and attractive colors available. Metal tiles may also be used in conjunction with other kinds of bathroom tiles to highlight a certain location or design in the bathroom. These tiles are often employed in the creation of elegant shower designs.
Consider these types when choosing bathroom tiles