Patio areas are immediately transformed into sophisticated and appealing spaces when you use outdoor tiles. When it comes to patio design, outdoor tiles are one of the most crucial things to consider since they will influence the appearance and feel of your area more than any other hard landscaping feature. Outdoor tiles must also be waterproof and slip-resistant to be effective. Continue reading to learn how to choose the best patio outdoor tiles for your needs.
What material to use for outdoor tiles and how to pick it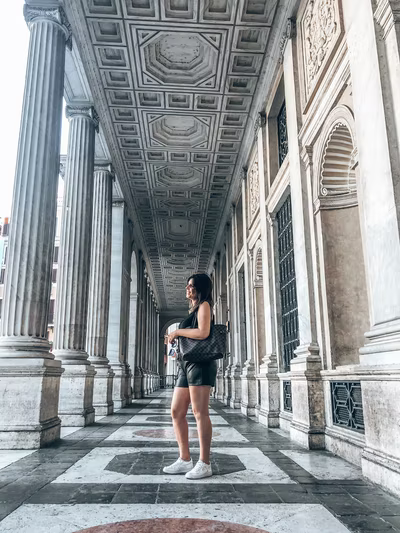 For the outside of your house, you have the same options as you have for the interior: artificial tiles or actual stone equivalents. Generally speaking, natural stone is the more costly alternative, but if you desire the inherent pattern and color variances of natural stone, as well as the knowledge that each tile is unique, it is the option to consider. Manmade outdoor tiles – for example, porcelain tiles – may mimic the appearance of natural stone, mimic the appearance of wood, or provide a beautiful neutral surface. There are also patterned variants that can be used to liven up a patio or walkway.
Do you want to create a strong connection between the outside of your house and the inside of your home? With floor outdoor tiles that are acceptable for both areas, you may create a continuous surface from a kitchen expansion with bifold doors or sliding versions to the garden, for instance.
Tiles made of natural stone for the outdoors
Natural stone tiles such as limestone, slate, sandstone, granite, and marble are all options for an outdoor space if you insist on having a natural stone. Natural stone is porous, and as a result, it will need sealing.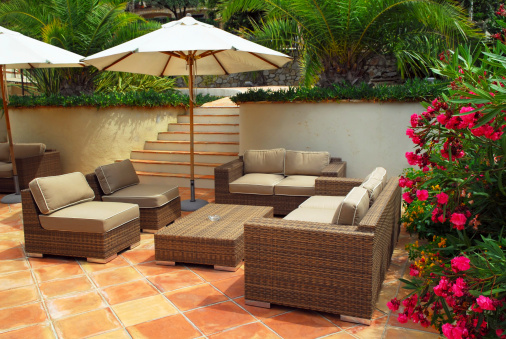 Slate is available in a variety of beautiful finishes, ranging from black and deep grey to more vibrant outdoor tiles with tones such as green or red. It may be used to compliment older houses or to create a more modern design, making it quite adaptable. It's also quite long-lasting. Because of its anti-slip qualities, the slate's uneven surface is particularly useful for outdoor applications, and a rough riven finish enhances this value.
Limestone is available in a variety of colors, including beige, creamier tones, and greys. A rough surface should be present on an outdoor limestone tile to prevent it from becoming slippery when wet. Keep an eye out for copies that have been tumbled or riven. Always double-check that the limestone you're considering is an outdoor-grade stone; some aren't meant to be exposed to the elements. You can read about How to efficiently clean your mixer tapware by clicking here.
Natural sandstone, such as the local kind known as Yorkstone, is a popular option for outdoor settings. Creams and greys are among the colors used. The latter is less difficult to keep clean, while cream might be more difficult. It has excellent slip resistance in any case, so it is feasible to achieve a smooth honed surface as well as more textured finishes that give it a rustic appearance.
When granite is wet, it requires a rough surface to avoid concerns with slipperiness from occurring. It may be used to provide a timeless background for a dining or sitting area in the garden, especially in grey or black tones.
Marble is sometimes used as a tile material for outdoor applications. Make sure to choose a tile that has been designed expressly for outdoor usage, as well as one with a textured surface to assist avoid slips.
Outdoor tiles for the outdoors that are man-made
Outdoor tiles made of synthetic materials might be a cost-effective and aesthetically pleasing solution. It is possible to get the style you choose for your patio or garden walk by using porcelain or terracotta as a building material.
Ceramic tiles provide a number of advantages over other types of flooring. Because they are not porous, they are not susceptible to cracking induced by frost. Because they are non-porous, they are also very simple to clean. They are also resistant to scratches and fading when exposed to the sun. In the outdoor area, look for a surface that is slip-resistant, and if there are children or elderly members of the home, a textured finish is an ideal choice.
Decorative porcelain outdoor tiles may be made to seem like wood or natural stone, or they might be plain and unadorned. Use them to create a Mediterranean-style feel on your patio or use them to restore the historical credibility of your front walk with a Victorian-style design on it.
Terracotta and quarry outdoor tiles provide the warmth of brick reds, browns, and greyer tones in a variety of sizes and shapes. Ideally, they should be used in historic residences or in conjunction with a cottage-style garden. As with other outdoor tiles, make sure the one you prefer the appearance of is suitable for outdoor usage before purchasing it.
It is possible to use the same outdoor tiles inside and outside.
It is possible to establish a seamless connection between interior space and outside space by using the same tiles at the same level both inside and outside the home. When combined with bi-folding or sliding doors, this may give the impression that a room is far bigger than it really is. Outdoor tiles in both natural stone and porcelain are available from a variety of manufacturers that will accomplish this impression.
In lieu of utilizing the exact same tile in the exact same finish, try using two distinct finishes on the same tile, with a more textured finish outside to maximize the tile's anti-slip feature on the outside of the tile.
When it comes to outdoor tiles, some are marketed in special indoor-outdoor ranges that make picking them simple. If this is not the case, always double-check that the tile you wish to use inside is also acceptable for use outside before pulling out the plastic sheeting.
What kind of outdoor tiles should be used around swimming pools and hot tubs?
A pool or hot tub will need the use of a floor that can withstand being continually wet while also not becoming too slippery. Ceramic outdoor floor tiles are the clear winner on both counts, while certain forms of natural stone may also be utilized in certain situations. Travertine is a typical material for pool surrounds, but it must be polished, filled, and coated with a watertight sealant before being utilized. When it comes to hot tubs and pools, marble should never be used since it becomes very slippery when wet.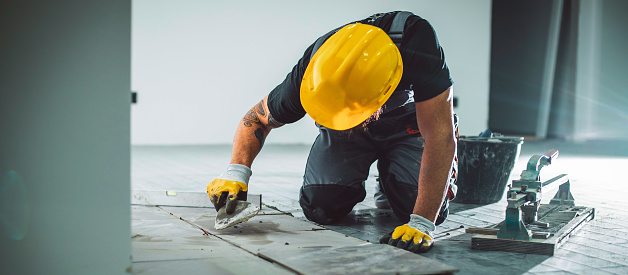 Who is qualified to install outdoor tiles?
An experienced do-it-yourselfer can complete the installation of patio tiles. The method you use will differ depending on whether you are placing natural stone or porcelain tiles, or if the tile is from a particular easy-to-fit line of tiles. If you don't have the proper tools or are unsure about placing tiles outdoors, you should seek the assistance of a professional. You can read about The best bathroom taps: 7 fabulous faucets to complement your bathroom's style by visiting https://www.realhomes.com/buying-guides/the-best-bathroom-faucets-taps-to-complement-your-bathrooms-style
What material is best for outdoor tiles